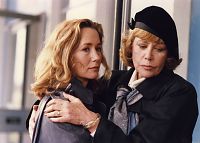 Overview
Original title: FLUEGEL UND FESSELN
Genre: Drama
Country, Year of production: D; F, 1984

Cast
Brigitte Fossey; Hildegard Knef; Ivan Desny; Hermann Treusch; Camille Raymond
Crew
Director: Helma Sanders-Brahms
Screenplay: Helma Sanders-Brahms; Suzanne Schiffman; Sylvie Ponsard
Director of Photography: Sacha Vierny
Producer: Helma Sanders-Brahms; Margaret Ménégoz
Co-Producer: Barbet Schroeder; Ursula Ludwig
You did not have added any film to the request list yet.
FUTURE OF EMILY, THE
Three generations. In 1945, Paula (Hildegard Knef) wanted to be an actress in Berlin. But she married instead and moved to France with her husband (Ivan Desny). Their daughter Isabelle (Brigitte Fossey) lives the life Paula always wanted for herself - successful, independent, an actress. But Isabelle envies Paula's lifestyle. She too has a daughter who often stays with her parents when she is off on location. The problems of single motherhood and the conflicts between personal freedom and family ties are at the center of this excellent drama which many consider to be Sanders-Brahms most refined and elegant film.